General Electric's Autofill
Industrial Design, Branding, Market Research, User Testing, Point of Purchase
Implemented on GE Appliances in 2016
Story
General Electric's new Autofill feature wasn't performing well. Consumers loved the feature in focus groups, but when it came to the sales floor, it was squashed by the competition. After spending years perfecting their sonic Autofill feature, General Electric was perplexed by this shift. They needed fresh ideas for making sales.
Team 
Marc Hottenroth, Global Products NPI
Jolee Evans, Industrial Design and User Research
Micheal Lee, User Research specialist
Eye Tracking: Consumer Field Testing
To learn more about what was happening out on the sales floor, we partnered with Tobii Insights, a firm specializing in eye tracking software. Equipped with the pupil-tracking glasses we were able to tell what Point of Sale (POS) consumers looked at and for how long.  Just as importantly, we found what they missed.
The Results 
Eye-level POS was viewed more frequently than POS located in storage bins, freezers, and side doors. Customers spent the longest time examining the water dispenser, which was a surprise to us. GE hadn't placed any POS in that area.
Customer Insights: Autofill
"What is that feature? I can't read it." 
"Wait... Autofill... But what does it do?" 
"This paddle is so flimsy. I just know my son will break it off."
Current Design Analysis: Why Isn't it Working?
The Autofill feature wasn't being noticed on the sales floor for several reasons. Mainly, the Autofill button was too small to see. It looked like an afterthought, like a fine-print warning. There was no additional labeling or POP pertaining to it. Store demos are not typically powered on, meaning user's can't interact with the user interfaces and test them out.
Paddle Ideation Process
In order to make GE Profile's refrigerators competitive, we needed to address the lackluster paddle. The current design, while easy to manufacture, felt flimsy when customers tested it on the sales floor, and lacked any design nods that competitors provided. We needed a paddle that would showcase the Autofill feature, and make it easy to use. 
Ergonomic Tests
I started by making quick ergonomic tests with simple materials on the current refrigerator. By testing the paddle ideas with different vessels, I was able to focus my ideas quickly. 
Ergonomic Test Takeaways 
Many of the ideas I wanted to try were impractical. For example, the layered double paddle seemed like an exciting way to highlight the Autofill feature, but in reality it forced the user to make an awkward angle with their wrist. A similar issue was noticed with staggered paddles or buttons on paddles that needed to be pressed precisely. 
Concepts with Promise 
From ergonomic testing, three main concepts seemed both interesting and practical enough to continue testing. They were selected to undergo more ideation. 
1. Single Branded Paddle (most conservative, fewest tooling changes) 
2. Split L Paddle (not conservative, requires tooling change)
3. Bottom Button (conservative, most tooling changes) 
Researching the Competition
Before taking the concepts further, I decided to research how the competition showcased features to customers. I surveyed two locations in the field, The Home Depot and an independent retailer. I found that permanent graphics and branding was commonplace in newer models. I asked the sales staff how the customer's react to this branding; do they find it tacky? The ubiquitous answer was "No... They love it!" 
With this in mind, I began exploring a badging concept to show off Autofill.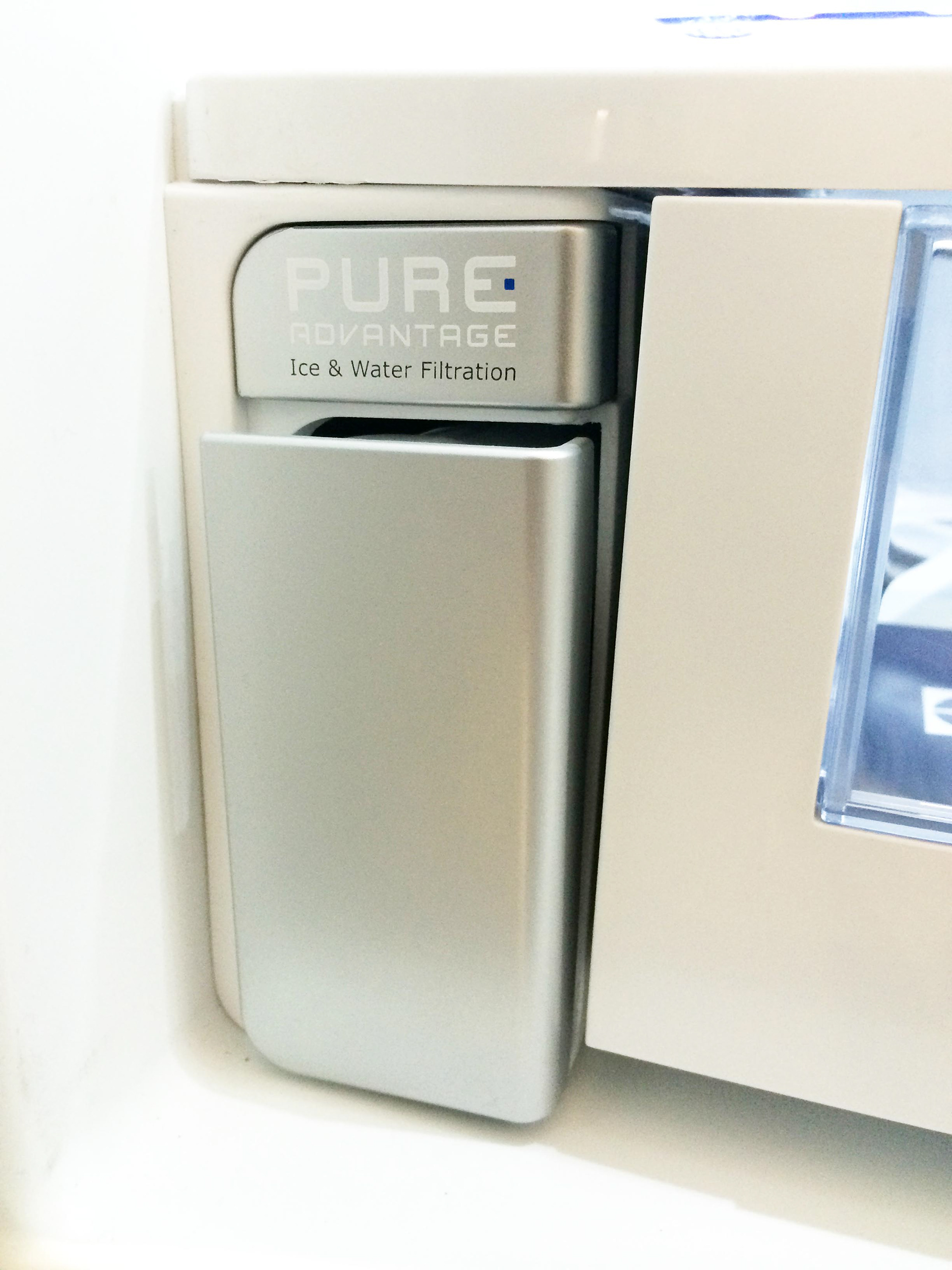 Badge Ideation
After reviewing the competition, it became clear that Autofill needed to stand out as a luxury feature. Creating a trademarked logo for GE's Autofill feature was simple yet powerful way to do this. It sent a message to customers that we were proud of the technology, while at the same time saying "Hey, look over here!"
Over three months I developed the look and feel of Autofill. Exploring colors, materials, and finishes, and specing the final badge for production.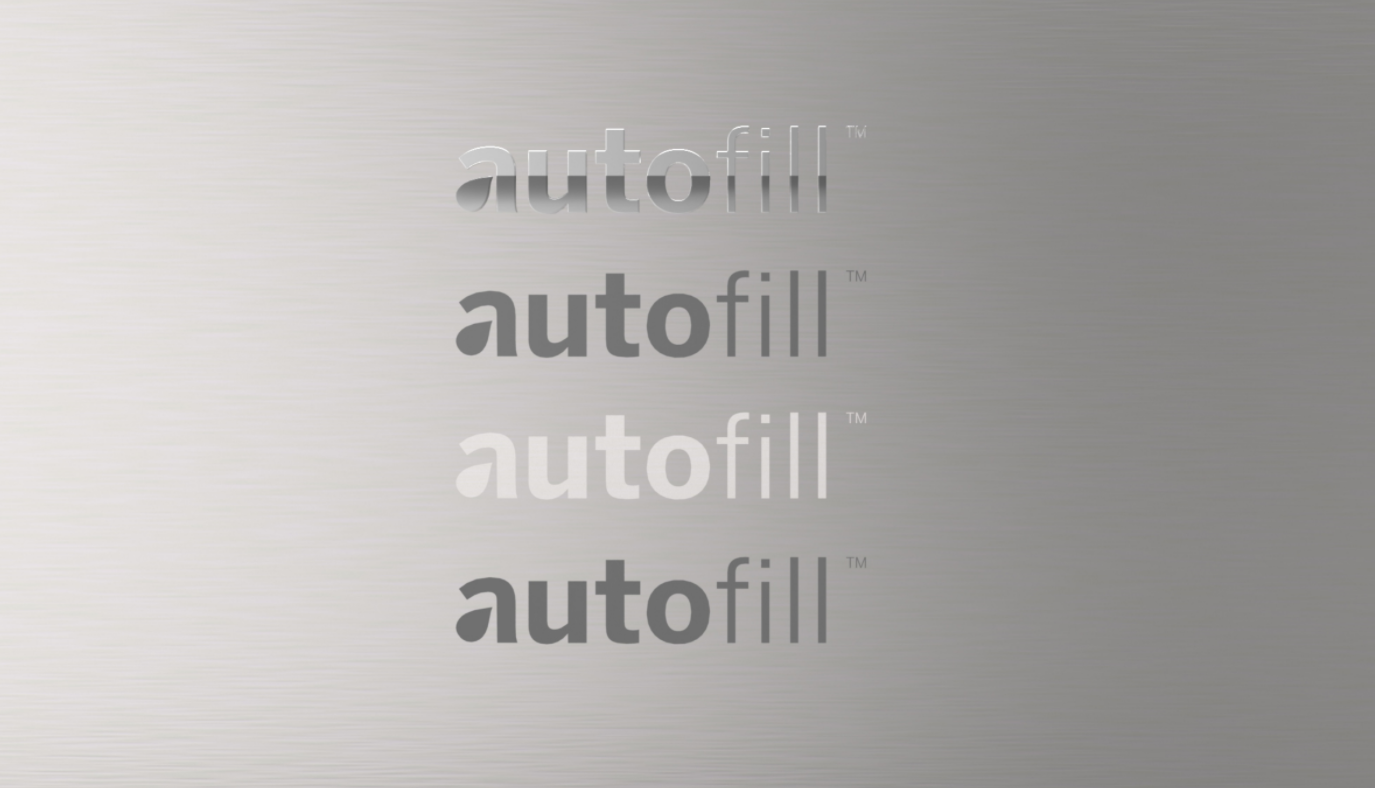 3D Modeling and Rendering
The physical concepts were taken into Solidworks to refine the aesthetics and form. Using CAD allowed for quick visual changes; feedback from design reviews could be directly implemented. The paddles were modeled onto the GE production-engineered solid model, ensuring proper fit and proportion. 
Physical Mock-Ups & User Testing
I created the top three designs at 1:1 scale for user testing at GE's Consumer Insights Lab. Collaborating with user researcher Micheal Lee, we devised a simple user-led walk through and talkaloud test. This was followed by quantitative testing where users rated ease of use, perceived durability, and visual appeal.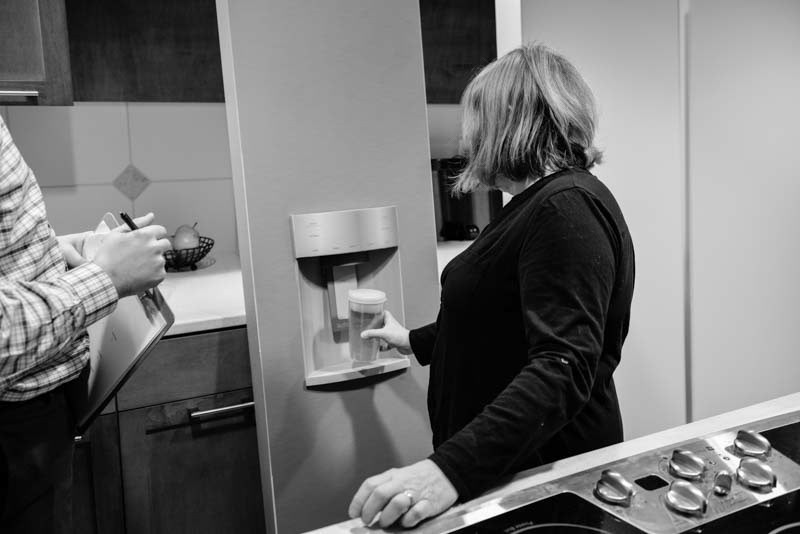 User Testing Results
1. Single Branded Paddle: 75% success using Autofill feature unprompted. 80/20 split in visual attraction. Few durability or cleaning concerns. 
2. Split L Paddle: 60% success using Autofill feature unprompted. 60/40 split in visual attraction. Least perceived durability. Cleaning concerns were raised. 
3. Bottom Button: 20% success using Autofill feature unprompted (90% when prompted to set glass to trigger Autofill). 100/0 split in visual attraction (also voiced as "neutral"). Most perceived durability.

Revised User Interface
From consumer testing, we determined centering Autofill and providing a backlit status indicator yielded the most user success. This is accomplished by a LED backlighting the plastic cling, printed with a stainless steel pattern. 
In Store Demo Sequence
I created a demo sequence for sales floors showcasing the Autofill feature. Using LED lighting to prompt user interaction, the demo led users through a filling sequence, illustrating the water poring in a glass.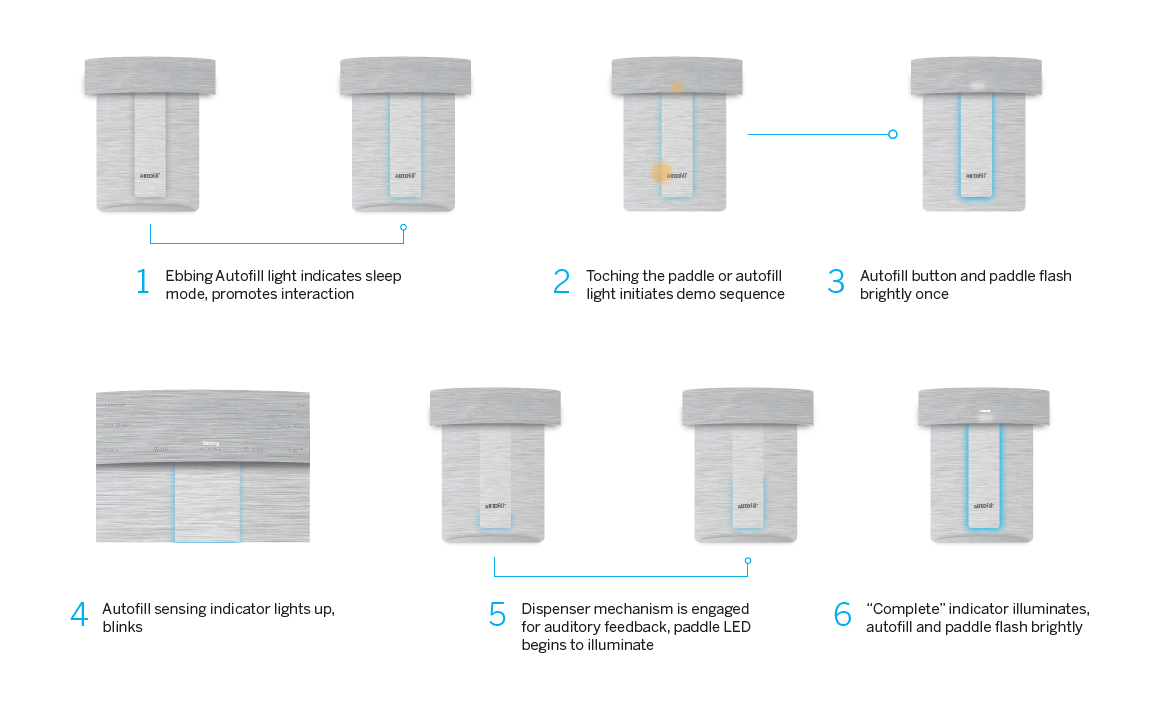 Point of Purchase Ideation
Point of Purchase (POP) methods were explored to further convey Autofill. The most promising POP was one that performed double-duty; it delivered information to the consumer while providing a protective film on the steel dispenser area. This kept the area clear of finger prints. 
Final Implementation 
The final branding came to market in 2016 under the direction of Lauren Platts and the GE manufacturing team. The branding alone was enough to skyrocket Autofill sales. The physical paddle is still under development by the GE Industrial Design team.