Village
UX Design & Research, UI Design
Story
Through social media, we are more connected than ever... Right? Although it's easy to keep in touch with old friends, our interactions are often superficial. As we grow, graduate, and move to new communities, we often lament not knowing the people right next door. And often, the people right next door are the ones most in need. 
Problem 
With unlimited social tools at our fingertips, we feel lonelier than ever. Local communities suffer, and aging neighbors feel neglected. How can we tackle this modern problem? Can we transition the tool that most isolates us into one that truly connects us?
First-Person Research
In order to better understand the volunteer community, we sat down with the founder of Lydia Place, a  thrift store that donates all proceeds to the homeless. 
Painpoints
- It's hard to find recurring volunteers on a weekly basis 
- High school and college students are great volunteers, but they tend to need more schedule flexibility and can't make long-term commitments.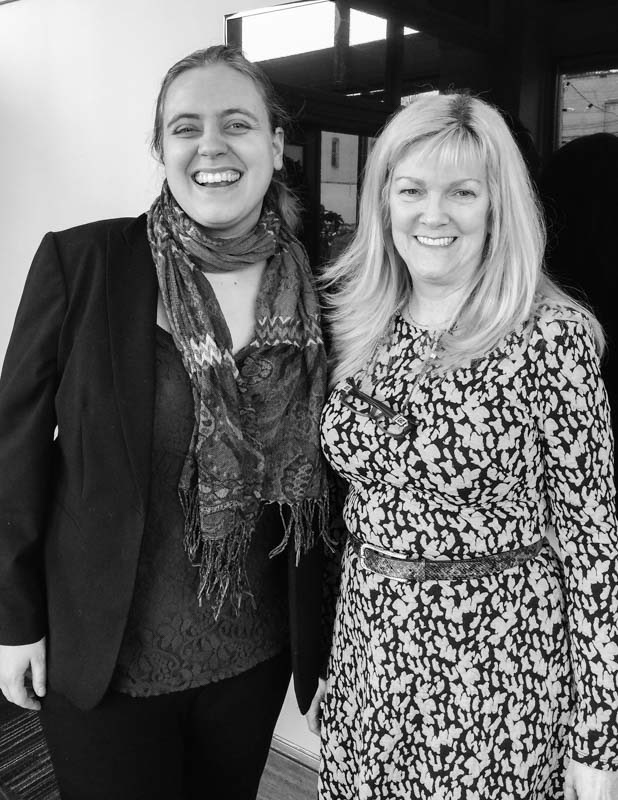 After touring Habitat's thrift store, we chatted with Program Manager Janet about the organization's goals and staffing habits. Finding consistent volunteers was difficult for them too-- weekend opportunities tended to fill up faster than recurring weekly positions. 
Painpoints
- Finding volunteers that are skilled in a certain field is difficult
- Transitioning one-time volunteers to recurring weekly positions is challenging in terms of scheduling. 
Third Stop: Members of the Community 
To get a better idea of our community, we surveyed over 80 individuals in-person regarding their attitudes towards volunteering. What we found was surprising. 
The Big Takeaways
1. The youngest and oldest cohorts placed the highest importance on volunteering. However, they were also the least likely to search for volunteering opportunities. 
2. Trust in the community didn't correlate to the individual's desire to volunteer. In fact, younger cohorts with less trust expressed more desire to volunteer. 
3. People found the same level of satisfaction volunteering for individuals as they did organizations.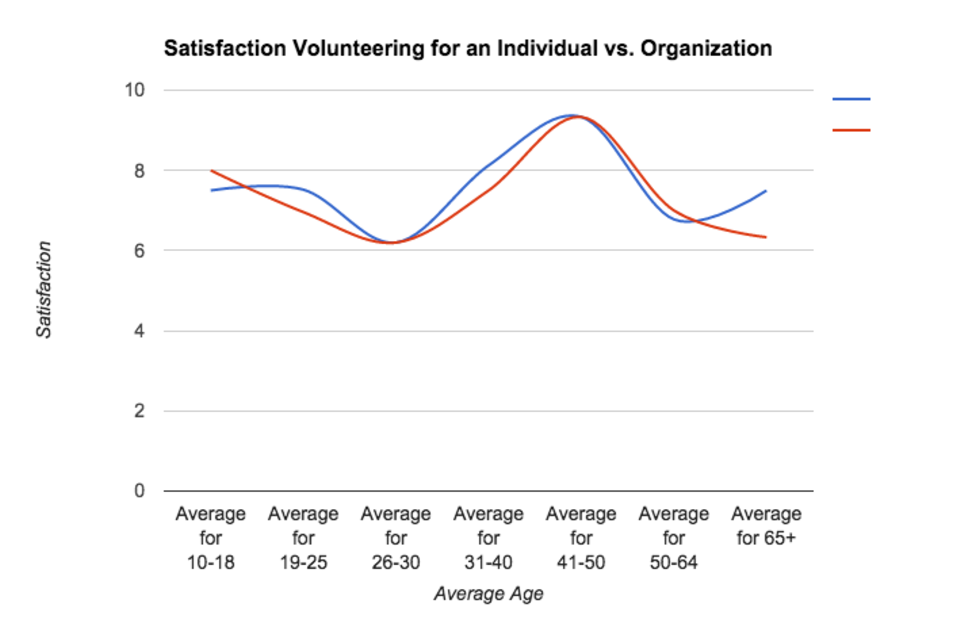 Ideation
Brainstorming
From first person research, our team knew we needed a solution that would connect people in the community through helping. We set out to create a system centered around three core principles:
Connecting individuals directly to each other became a main focus for our group. As opposed to offering a volunteer position through an organization, we wanted to create a direct avenue of contact between members of the community. 
Needs and Gives
People love to give. As a species, we feel delight and fulfillment from being able to help someone in need. Conversely, asking for help requires great humility... and we often go to great pains to avoid it.
In order to create a community centered around giving, we also needed to create a community who was willing to ask for help. Decriminalizing the concept of being "in need" was a much larger social issue that our solution needed to tackle. 
Wireframing & User Testing 
User Testing: Round 1
Our first attempt was, of course, far from perfect. It was over-complicated, demanding the user to cycle through a long and boring on-boarding process. A single user test made it clear we would lose users straight out the gate with this method. Our next iteration would test displaying content up-front to grab user's attention.
User Testing: Round 2
The second revision focused on quickly offering volunteering content to the viewer. The home screen was a map-style layout, which users voiced as interesting, but difficult to navigate. Users expressed desire to see a listing-style layout in addition to the map.
User Testing: Round 3,4,5,6...
As we continued to refine, it became evident that users preferred a listing-style interface as a home screen. Information was easy to parse and users felt comfortable with the format. Two tabs were created, one for Needs and another for Gives. 
We teamed up with psychologist Kamran Hughes for insight regarding gamification, user retention, and color theory. He helped refine and focus our color palette and final wording within the app.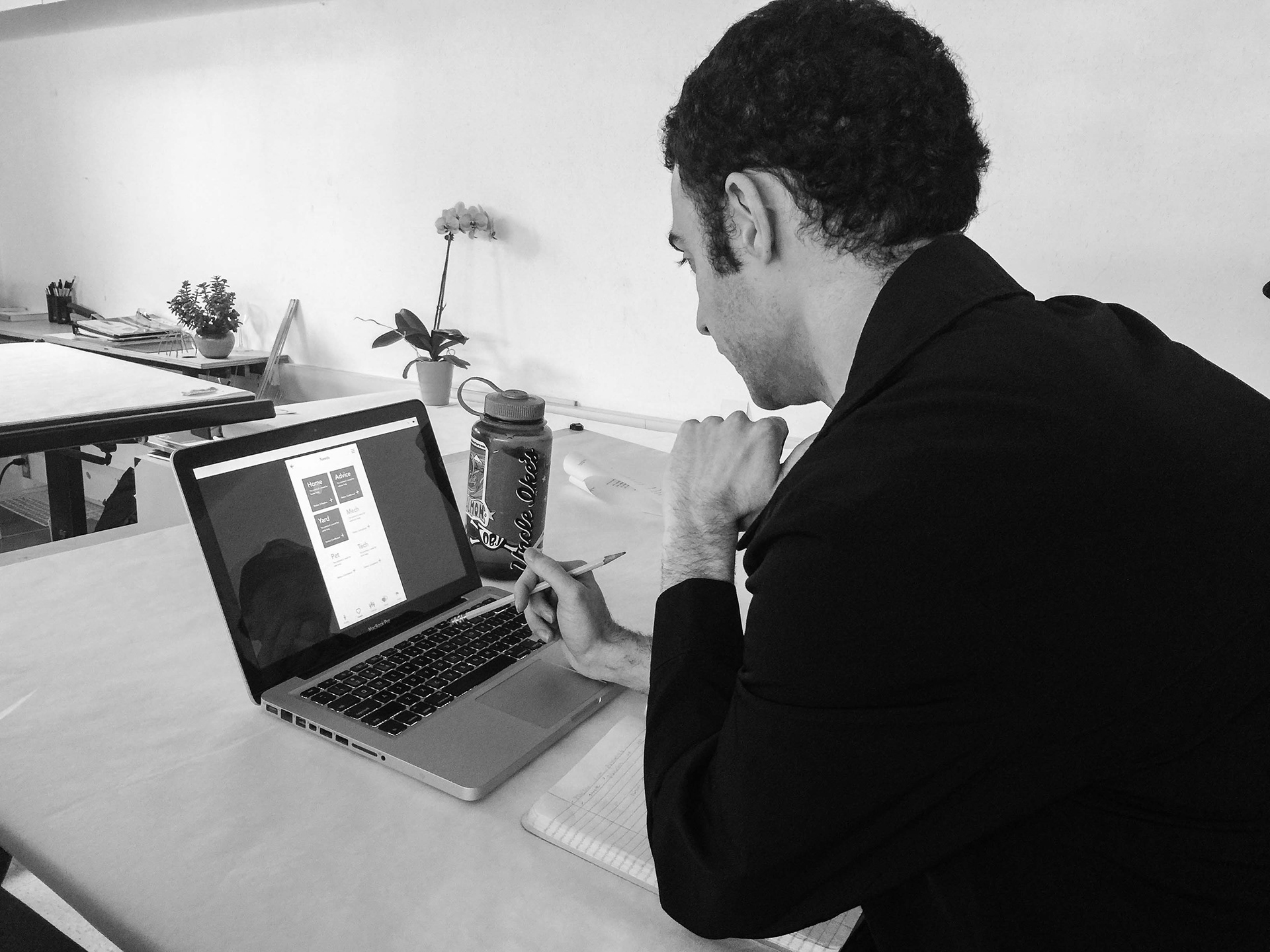 Crafting a Story 
Creating a cast of comically relatable characters helped us tell a story of a fragmented community who seemed to have nothing in common... But through Village, they discover their strengths lie in their differences. The video helped us quickly communicate the purpose of Village to audiences. 
Persona Creation
The characters in the video were a distillation of our first-person research. Seeming to be just cliches, the characters confront the three main reasons people can't find time to volunteer. 
1.

Kate

: Finding an opportunity is too difficult. 
2.

Elon

: Scheduling to volunteer is nearly impossible. 
3.

Fergis

: Volunteering for organizations can seem like another corporate mission.
Home Screen
The new home screen allows you to browse listings through Map or List layout. Toggle though the two to see color-coded opportunities near you.
New Users: The First Use
A clean start up screen walks the user through a quick account set-up phase. The goal is to gradually ask more details about the user over time, as opposed to asking these details up front. Early user testing revealed this method increased new user retention and gathered more detailed information about them.
Posting a Need
Creating a Need is simple, quick, and fun. Users tag skills that they are looking for and write a 140 character description. This encourages users to post often, and keeps postings short and readable.
The Profile
The profile is a collection of previous activities, skills, and reviews. The user can reflect back on their contributions to the community and share activities with friends. 
Connecting Needs with Gives
Once an opportunity to give is found, the user initiates contact directly to the requester. A simple chat dialogue allows them to discuss relevant details, and confirm a date to meet. 
Creating Trust 
Trust between users is key. Linking social media accounts such as Facebook and LinkedIn is a start, but we found through first-person research that users wanted more in-depth information. We included a system of reviews and ratings within the app, to bolster confidence and provide incentive.
The Social Incentive 
Sharing good deeds is a central part of Village. Not only do users get a complete overview of their Needs and Gives from their profile, but they can post their activities to Facebook and Instagram. This not only bolsters the users' ego, but it allows for more exposure of the application. More exposure = more users = stronger community.